FEEDING MADEIRA. REGENERATIVE AND DISTRIBUTIVE FOOD SYSTEM FOR SUSTAINABLE FUTURE
"FEEDING MADEIRA. REGENERATIVE AND DISTRIBUTIVE FOOD SYSTEMS FOR SUSTAINABLE ISLAND FUTURES" is the 1st international workshop within the Erasmus+ funded project DIGITAL CREATIVITY 4 DIGITAL MATURITY FUTURE SKILLS
In the context of a small island in the Atlantic Ocean such as Madeira, the delicate balance between human needs and the availability of natural resources is under constant threat. This requires preparing future generations of creatives and entrepreneurs with the right mindset and skills to collaborate and ideate opportunities for sustainable futures. Today the goal is to learn to design and implement systems that can be distributive and regenerative, to benefit individuals and communities, local economies and the environment. The role of digital technologies is considered fundamental in this process of rethinking the way we design and implement new sustainable scenarios.
The first DC4DM Learning Lab will happen in Funchal and will focus on food, intended as the whole food chain system, from production, to distribution, consumption and regulation. To design new sustainable food systems, the participants will be invited to embrace the theme from different perspectives by considering the role of producers, consumers, and policy makers. They will have to identify a design opportunity that would consider the application of one of the proposed digital technologies to shift to more distributive and regenerative systems for the island of Madeira.
What is a Learning Lab?
A Learning Lab is a 10-days design-led workshop where students from design, engineering and management will work collaboratively to design new tech solutions for more sustainable and ethical futures. Multidisciplinary teams would explore the potentialities of some digital technologies proposed by selected tech-SMEs or startups and will be mentored by international experts from various fields and backgrounds.
Learning Labs are an opportunity to learn about a new methodology to think and design in a digitally mature way, developing skills to identify opportunities for innovation through the application of digital technologies.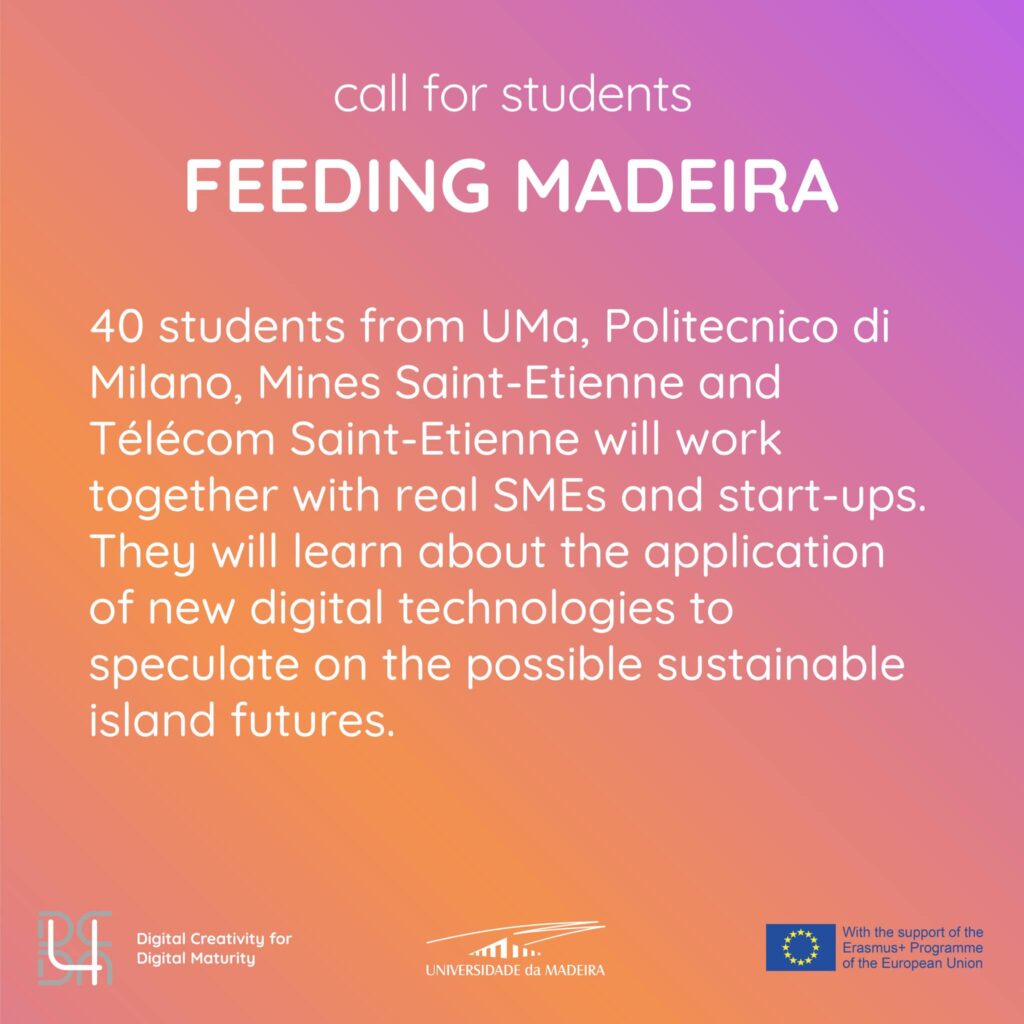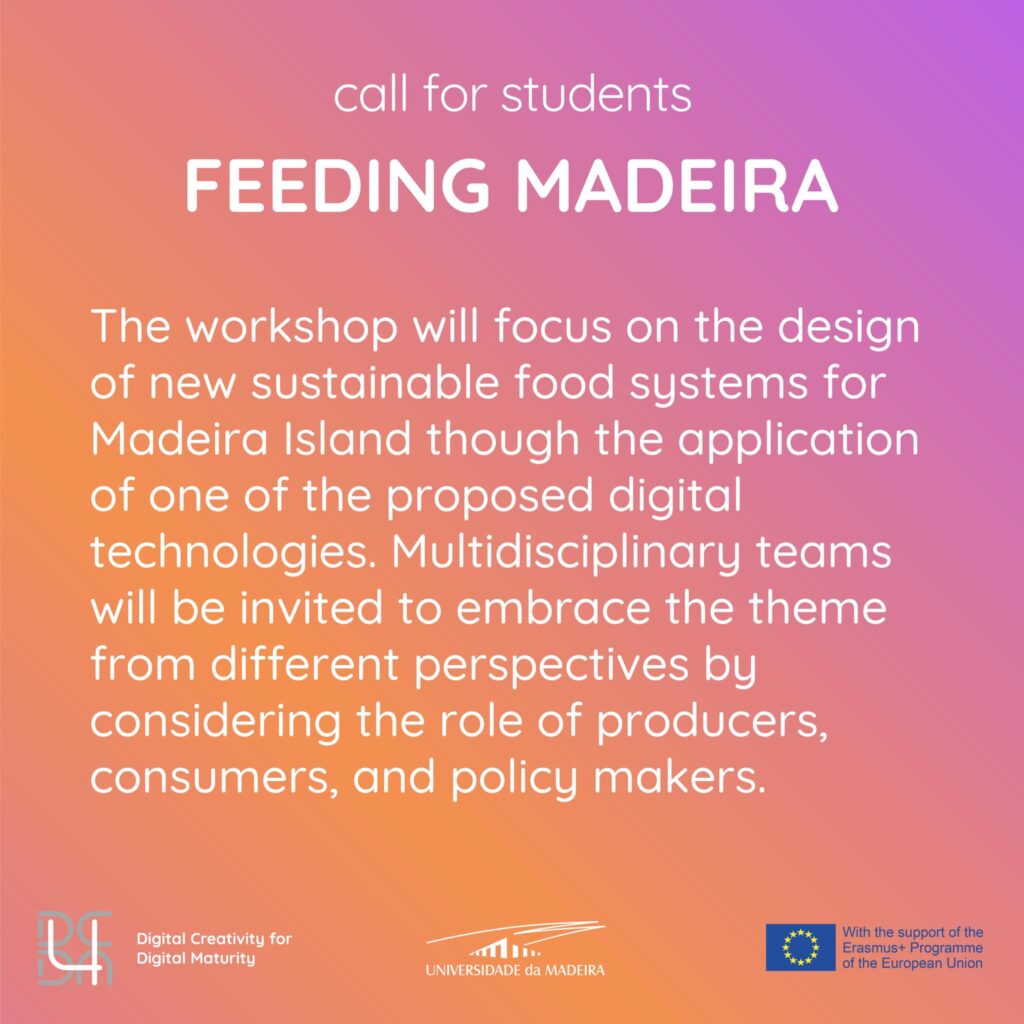 What we expect to happen
At the Learning Lab FEEDING MADEIRA, 40 students and various experts from different countries and disciplinary fields, particularly from design, engineering and management, will gather to co-design new sustainable product-service systems for the island of Madeira. The tech-solutions that will emerge will aim to contribute to rethink the whole food chain as a distributive and regenerative system for local communities, natural ecosystems and their organisms.  
The Learning Lab 'Feed Madeira' will involve:
– 5 tech-oriented SMEs and start-ups which will propose the application of different digital technologies or services through five different design briefs;
– 5 or more Madeira companies related to the local food chain, from production, to distribution, consumption and policy making;
– several mentors from the areas of design, management, information technology, and sustainable agriculture.
The programme will be published soon. 
STAY TUNED!