to subscribe to DC4DM's Newsletter !
#2 Future skills for digital maturity
The second issue our newsletter looks at the process we've been through over the past few months to define the future skills that facilitate and accelerate the process of achieving digital maturity.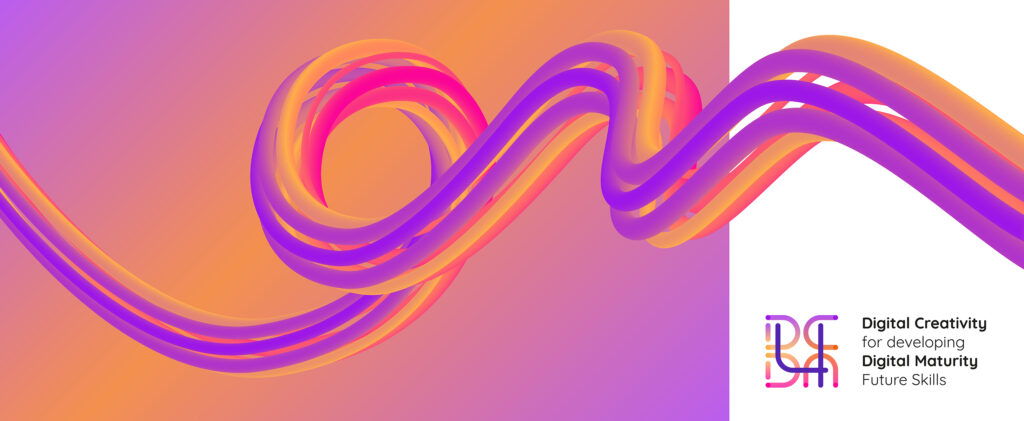 Digital Creativity for developing Digital Maturity Future Skills (DC4DM Project) is an EU-funded initiative that brings together partners from Italy, France and Portugal in an effort to foster a new culture of creativity in digital innovation.  
Over the next two years, the team consisting of design, digital and innovation specialists from Politecnico Di Milano, Startup Madeira, Mines Saint Etienne, Universidade da Madeira, and Université Jean Monnet Saint Etienne will create a new programme for helping students and startups to put creativity at the service of new digital technologies. Our goal is to create and implement a human-centred design model to facilitate and guide the ever-evolving process of digitalisation through the enhancement of creative skills. 
The first edition of Digital Maturity Day
The Digital Maturity Days are a series of events open to the general public, in which a series of guest speakers share their expertise on the topic of digital maturity. The purpose of these open events is to foster conversation between experts and non-experts on the topic of future skills that promote the adoption of digital technologies.
The first edition of this series took place in September 2021 in Milan and it focused on sharing cross-cultural knowledge on digital maturity through four round tables with experts from both academia and business. The conversation focused around 4 key themes:
Strategic and technology foresight skills

People empowerment for companies' digital transformation

Digital ethics, social and cultural implications of digital innovation.

Emerging digital technologies: applied case studies.
You can watch the recording of the four round tables on the DM4DC Youtube channel
or you can read a summary of the topics discussed and the outcomes of those conversations below.
The Digital Maturity Bootcamp
In September 2021, Milan was also the host of a 2 day Bootcamp where the partner institutions representatives worked together with a small cluster of students from Politecnico di Milano to make a first validation of the Digital Maturity Toolkit.
The team was able to meet in person for the first time and work through a series of activities to define, prioritise and further develop, as a consortium, which are the most fundamental Digital Creative Abilities to address in our educational box to train Digital Maturity Enablers.
What kind of skills do we want to encourage?
Extensive research into the future challenges posed by the transition to a digital-first society has shown that the ability to withstand disruptions and to thrive as an active member rests on building a range of skills and capabilities.
To identify these skills and capabilities, the team at DC4DM have spent the last few months exploring both digital skills as well as human skills that design education institutions will need to instil in future digital professionals. 
The result is a number of Digital Creative Abilities, divided across four key areas:
Cognitive

Digital

Cross-functional team

Strategic vision 
What drives the development of those skills?
During and after the Bootcamp we reflected a lot about what we have created together. It was interesting to create together the drivers, which were recognised by all as driving elements. 
When we selected the DCAs that composed each driver and described them, many differences in our background emerged. Each partner based on their experience and expertise had a different point of view.
This happens regularly in a working team but it was amplified by the fact that we had to build a common vision that was understandable by those who will use the DC4DM model.
It was very interesting to amalgamate the different points of view and build together a broad and comprehensive definition that would enhance all points of view. It is an experience that surely enriches with pragmatism the theoretical contribution of the consortium.
Emerging future solutions
The interesting aspect we hadn't thought of before is using AI to create educational formats adapted to the specific needs of the teacher and related students.
The more traditional idea is to create standard modules that can be applied according to the need while the AI partner in the consortium proposed an adaptive dimension that responds to a more customised education.
In the next issue of the newsletter, we'll dive deeper into the DC4DM model, skills and abilities that we believe will form the foundation for digital innovation.
Sign up here to stay up to date with our quarterly reflections.